Genset HONDA/ Briggs & Stratton Genset - 2.7 to 10 kW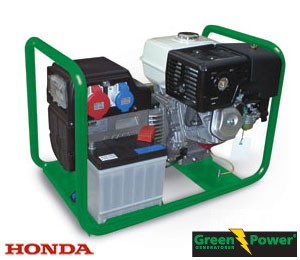 GreenPower generators equipped with gasoline engine from Honda. The units are especially produced for settlements, mobile installations, camping sites, hobby use etc.

Delivered in 3-phase 400 volts or in 1-phase 230 volts, 50 Hz.
GreenPower electrical panel, generator and MCB.
Manual or electrical start function.


Standard equipment
Accessories

•

Handstart, Electrical start


•

Indicator, work time


•

Mobile wagon
Other configurations

•

Models with different voltage




•

60 Hz version




•

Automatical start
(We also construct custom units)
HONDA / BRIGGS & STRATTON engine - Gasoline 3000 r/m
Model*
Power




Engine
Start method
400V
230V

kVa

kW

kVa

kW

GP3H

3
2.7


3.3

2.9

GX160

S

GP 3,8H

3.8

3.4


4.4

4.0

GX200

S

GP5,5H

5.5

4.4


6.0

4.8

GX270

S

GP5,5HE
5.5

4.4


6.0

4.8

GX270

E

GP7H

7


5.6

7.7

6.1

GX390

S

GP7HE

7


5.6

7.7

6.1

GX390

E

GP 10B

10

8

11

8.8

B.&S. 16HP

S

GP 10BE

10

8

11

8.8

B.&S. 18HP

E

GP 12B

12
10
13.2
10.5

B.&S. 18HP

S

GP 12BE

12
10
13.2
10.5

B.&S. 16HP

E
*H = Honda, B = Briggs & Stratton, S= Manual with Rope, E = Electrical start with Battery