InteliNano NT Plus Genset controller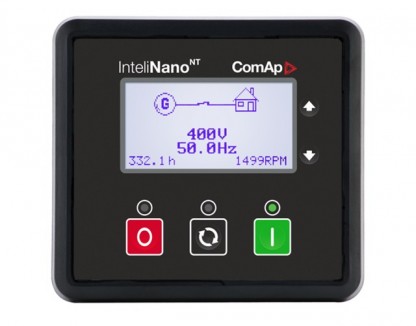 InteliNano NT Plus Genset controller
Supreme model from InteliNano NT family. AMF and MRS controller with current measurement and support of EFI engine.

Features:
AMF and MRS controller in one model.
1/3 Phase generator voltage measurement (3/3 phase when used as MRS controller).
1 Phase generator current measurement.
3 Phase mains voltage measurement.
Connection type and voltage auto detect.
Various generator and engine protections.
Biggest LCD screen in its class.
Icon menu, no text.
Automatic or manual MCB and GCB control.
"Zero" power consumption mode.
Battery voltage, Service time and Running hours indication.
All setpoints and I/O's configurable via front panel.
Ability to catch up on running engine (for manual engine start).
Light Tower mode supported.
Event log (10 events).
Up to 3 analog inputs (shared with binary inputs).
COM terminal for analog measurement.
Up to 6 binary inputs (1 binary input is shared with binary output).
2 high side - high current outputs.
4 high side binary outputs.
D+ pre-excitation terminal.
ECU support (CAN J1939).
USB one-cord power supply and programing.
License free PC configuration software (NanoEdit).
Standard cut-out dimension 96x96.
Outside dimension 110x100.
IP 65.
UL certification pending.
Technical Data

Power Supply Range
6 – 36 VDC
Operating temperature
-20°C to 70°C
Number of binary inputs
up to 6
Total number of binary outputs
up to 6*
Number of low current binary outputs
4
Number of high current binary outputs
2
Total output current
10A – long term
15A – short term
No. of Analog inputs
up to 3
Measurement Inputs
3ph generator voltage, 3ph mains voltage
Dimensions (WxHxD)
118x108x40 mm
» IN-NT-Plus-2.0.1.x-Reference Guide