InteliLite Telecom DC Gen-Set Controller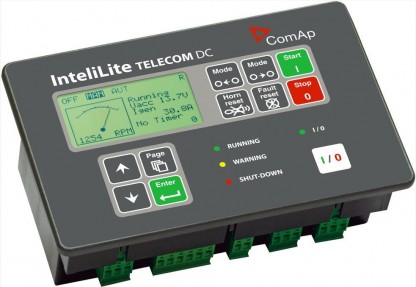 InteliLite Telecom DC Gen-Set Controller
DC Genset Controller for Telecom Tower Applications
Specification
The InteliLite Telecom DC is the perfect genset controller for DC telecom applications and offers complete monitoring, control and protection of the DC system. |
Unlike other products on the market, ComAp InteliLite Telecom DC controller takes full advantage of latest technology by using variable speed DC generators to charge the batteries (cycling operation) or provide power to the load.
This approach is more efficient than traditional alternator excitation and results in lower engine fuel consumption.
Remote communications provided by ComAp's integrated software suite – WebSupervisor, LOCATE and AirGate – offer valuable monitoring and control features.
Telecom tower companies or mobile operators can therefore benefit from predictive maintenance of their sites, which contributes to OPEX savings.
And with a comprehensive history log (and customisable and downloadable excel datasheets for data archiving) it's simple to keep an up to date record of generating-set performance, with full incident monitoring and fault notifications.
Features
Complete monitoring, control and protection of the system
Uses variable speed DC generators to charge batteries
WebSupervisor, AirGate and LOCATE support*
Automatic SMS on alarm*
Fuel measurement function
Automatic Start and Stop according to the accumulator voltage and charging current
Charging current/voltage regulated by speed (variable speed engines, dual speed engines) or excitation (single speed engines)
Voltage compensation according to battery temperature
Charging time limitation and other protection
Circuit-breaker control
Main screen layout adapted for DC applications
Service cycle allows the maintenance people to trigger the charging manually
ComAp SCADA compatible (several equipment creating the network)
History log
* Plug-in module required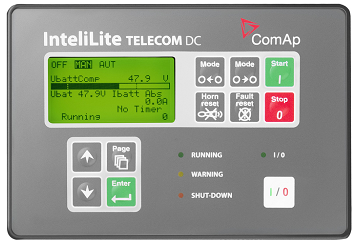 Technical Data

Power Supply Range
8 – 36 V DC
Operating temperature
-20°C to 70°C
Operating temperature (LT version)
-40 to 70 °C
Number of binary inputs
7
Number of binary outputs
7
Power supply range
8-36 V DC
Number of analog inputs
9
CAN Bus length
Max. 200 m
Protection
IP20
Current consumption
150 mA at 24 V ÷ 400 mA at 8 V
Dimensions (WxHxD)
185x125x60 mm
Mounting cutout size (WxH)
175 x 115 mm
»
InteliLite Telecom DC Reference Guide