InteliLite NT AMF 9 Gen-Set Controller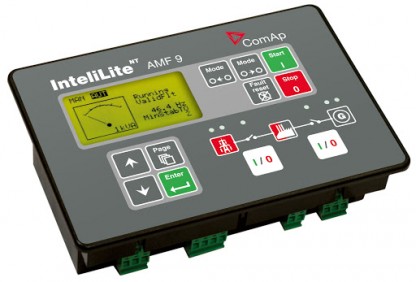 InteliLite NT AMF 9 Gen-Set Controller
The InteliLiteNT AMF 9 is integrated controller for gen-sets operating in single standby mode.
The controller meets all requirements for Auto Mains Failure (AMF) applications including remote communication and internet control, user configuration and complete gen-set monitoring and protection.
InteliLiteNT AMF 9 is easy to use with a simple intuitive user interface and graphic display.
Unit is designed for quick and cost saving commissioning and bring seamless integration with the latest breed of EFI diesel engines from all major manufacturers.
This offers a higher level of functionality with users able to display a comprehensive range of values from the EFI engine on standard analog gauges and true RMS measurement of electric values.
Benefits

Less wiring and components
Less engineering and programming
Cost saving commissioning
Remote monitoring reduced call-out costs of service engineers
History 100+ records based on running hours
Hybrid binary inputs and outputs module – simple way of extension the unit performance
SMS on alarm/event
Direct communication with EFI engines
Perfect price / performance ratio
Supports prime power (MRS) applications
Automatic and manual GCB and MCB control
D+ preexcitation terminal
True RMS measurement
3 phase power measurement
3 configurable analog inputs
4 binary inputs
6 binary outputs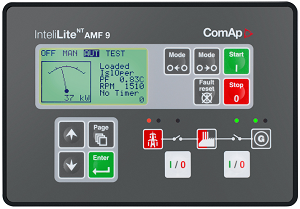 InteliLite NT AMF 9 Controller/Function
Binary inputs/outputs
4 / 6
Analog inputs
2
Pick-up
•
AMF function
•
MRS Switch
•
Input configuration
•
Output configuration
•
Voltage measurement Gen. / Mains
3 ph / 3 ph
Current measurement
3 ph
kW/kWh/kVA measurement
•/-/•
Generator Protection
•
Full history fi le / Running hours
history
-/•
GCB/MCB control with feedback
•2)/•2)
D+ battery charging alternator circuit
•
Engine hours
•
CAN-J1939 interface
-
Internet support with Web server
with IB-Lite
Internet support over GPRS
with IL-NT GPRS
Extension modules
-
8 analog gauge drivers
O
Remote communication interface3)
O
Modem interface
O
Modbus interface
O
Remote display
O
Cummins Modbus
Active SMS / E-mails
O
Dummy load/Load shedding
•
Auto. temperature based
heating / cooling
•