InteliLite NT AMF 25 Gen-Set Controller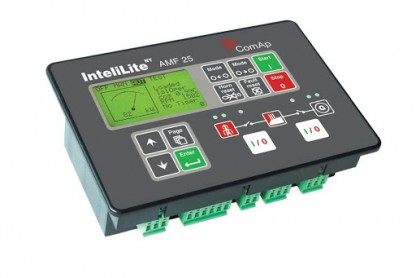 InteliLite NT AMF 25 Gen-Set Controller
InteliLite AMF25 and InteliLite AMF25 are new integrated controllers for gen-sets operating in single standby mode.
They meet all possible requirements for AMF applications, including modem control, user configuration and full gen-set monitoring and protection.
Description:
InteliLite controller are equipped with a powerful graphic display. Ioons, symbols and bar graphs for intuitive operation together with high functionality set new standards in gen-set control.
Special low temperature (IL-AMF 20-LT or IL AMF 25-LT) version is also available, allowing the display to work up to -300C.
Features:
Support of engines equipped with electronic control unit (J1939 interface).
Comprehensive diagnostic messages; SPN/FMI codes; KWP2000 support.
Automatic or manual start/stop of the gen-set. Push buttons for simple control, lamp test
Graphic back-lit LCD display 128x64 pixels 6 LED indicators
Parameters adjustable vis keyboard or PC
Mains measurements (50/60 Hz): U1-U3, I1-I3, Hz, kW,kVA, kWh
Selectable protections alarm/shutdown
Compact gen-set controller for single genset operating in standby or prime power modes
Full gen-set monitoring and protection
Outstanding EFI engine support with diagnostic messages in plain text via J1939
Detailed event and performance log with time and date
Multiple languages (user changeable) in controller, even more in installation suite
Plug-in and CAN bus extension modules capability
WebSupervisor and AirGate support*
Automatic SMS on alarm or event & gen-set control over SMS*
On-line control and monitoring over web pages (embedded web server) via plug & play IB-Lite Optional GSM/GPRS modem/wireless Internet via IL-NT GPRS
Fuel theft protection and Total fuel consumption monitoring
Earth fault current protection*
Alternative switchable configuration
Dual mutual stand-by (Dual AMF) support
Supports prime power (MRS) applications
Automatic and manual GCB and MCB control
Magnetic pickup input
D+ preexcitation terminal
True RMS measurement
3 phase power measurement of gen-set and mains incl. kWh
3 configurable analog inputs
7 binary inputs
7 binary outputs
* Plug-in module required
Low temperature version is availible for operation from -40°C to +70°C
3 phase generator protections:
Over-/under voltage
Over-/under frequency
Current/voltage asymmetry
Over current/ overload
3 phase AMF function:
over-/under frequency, over-/under voltage , voltage asymmetry , configurable analog inputs Battery voltage, engine speed(pick-up) measurement , Configurable programmable binary inputs and outputs Warm-up and cooling functions , Generator C.B. and Mains C.B. control with feedback and return timer RS232 interface (AT-LINK CONV cable is necessary for IL-AMF 20) Modem communication support (IL-AMF 25 only) Demensions 180x120mm(front panel) sealed to IP85

Benefits:
Less wiring and components, Integrated solution , Less engineering and programming.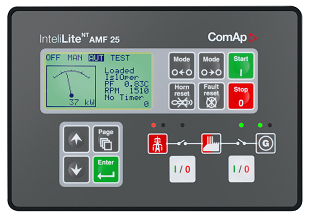 Technical Data

Power Supply Range
8 – 36 VDC
Operating temperature
-40°C to 70°C
Number of binary inputs
7
Number of binary outputs
7
Number of Analog Inputs
3
Nominal input current (from CT)
5 A
Maximal CAN bus length
Maximal CAN bus length
Dimension
180x120x55mm
Weight
450g