ComAp styrsystem för elverksstyrning manuell eller automatisk drift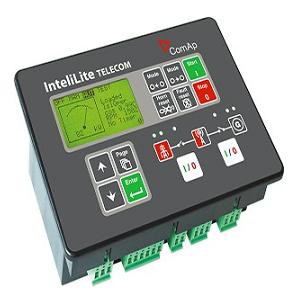 ComAp styrsystem för elverksstyrning manuell eller automatisk drift
The
GPRS system
helps GSM mobile phones communicate across the cellular network. This innovative technology allows you to monitor and control your application from any point - your office, home, smart phone or a dedicated monitoring center. Let´s Go Wireless!
The benefits are endless.
Receive alarm announcements immediately they happen, use your hand held device to access information about past events or take advantage of reduced costs with smarter service and maintenance planning.
The ComAp
IL-NT GPRS
is an integrated GSM modem and Internet GPRS solution for
Greenpower controllers
. It offers a unique solution for wireless monitoring and control over a single or a whole fleet of equipment. The main benefits include high reliability for your application, instant alarm events notification over SMS, on-line data access on Internet (using
WebSupervisor
), periodic data collecting in Excel format and SMS control.
Wireless integrated solution
Supports unique AirGate technology for Quick & easy installation
Support of WebSupervisor – on-line web based system monitoring & control
Periodic data collection in Excel format
Instant alarm SMS notification
System control over SMS
Compatible with IL-NT, IC-NT*, IA-NT* and ID-Lite
GSM/GPRS modem
Quad Band 850/900/1800/1900 MHz
GPRS multi-slot class 10
CSD up to 14.4 kbps
TCP/IP communication over GPRS
Rugged industrial design plugs right inside the ComAp module
The
new version of LiteEdit 4.5
, PC Tool for Configuration and Supervision of InteliLite controllers, now offers full support of ComAp's
AirGate communications technology
allowing you to connect easily via the internet to your controller from anywhere in the world.